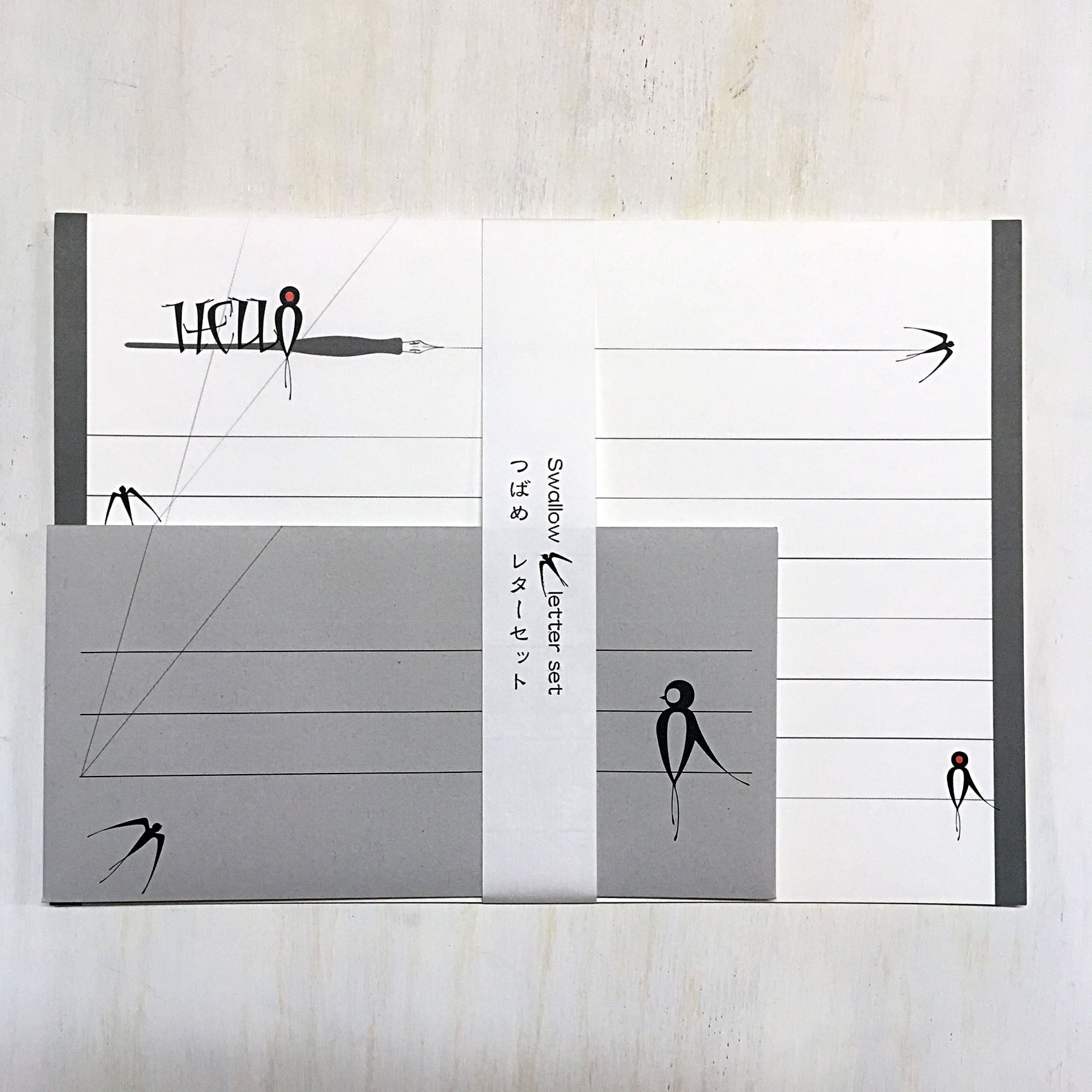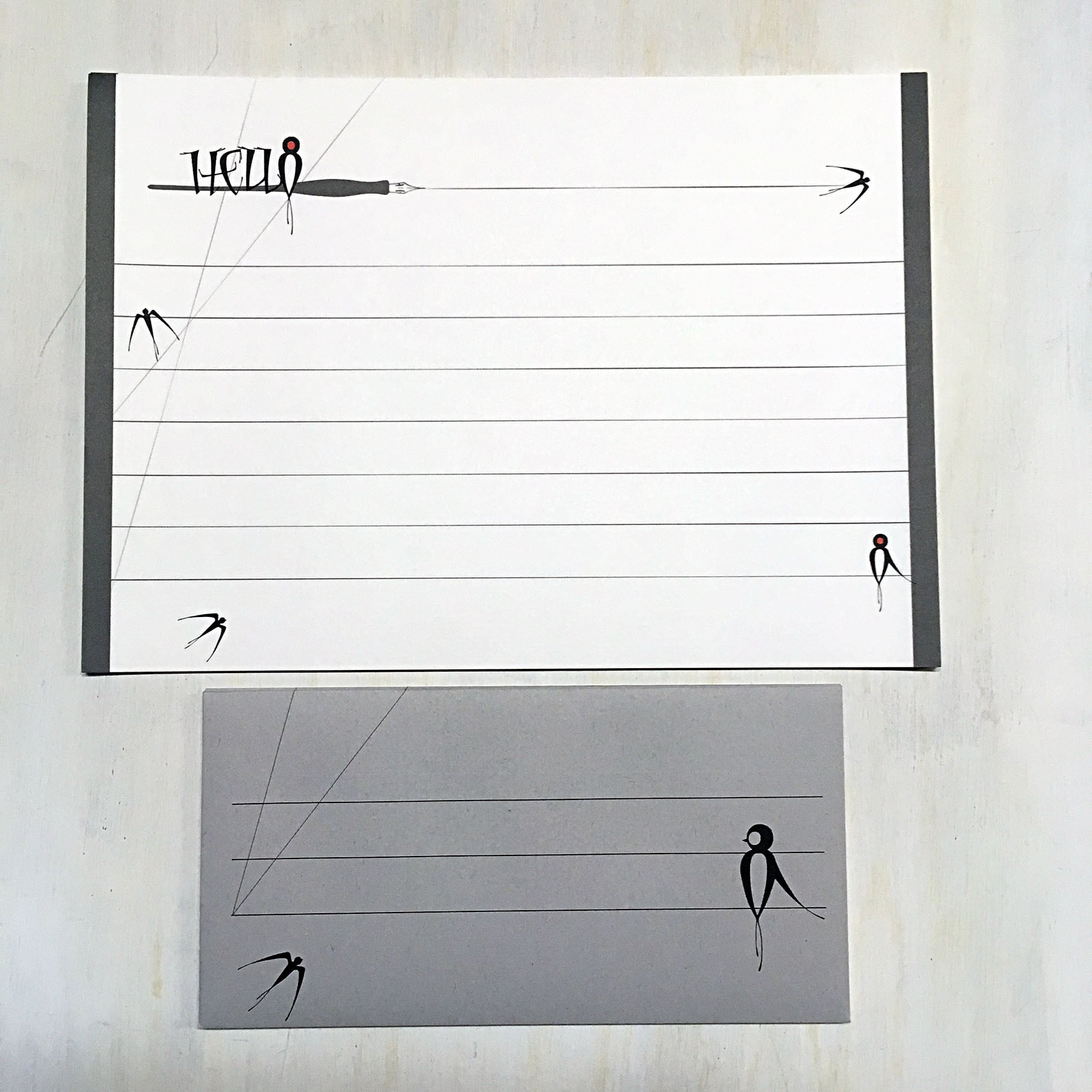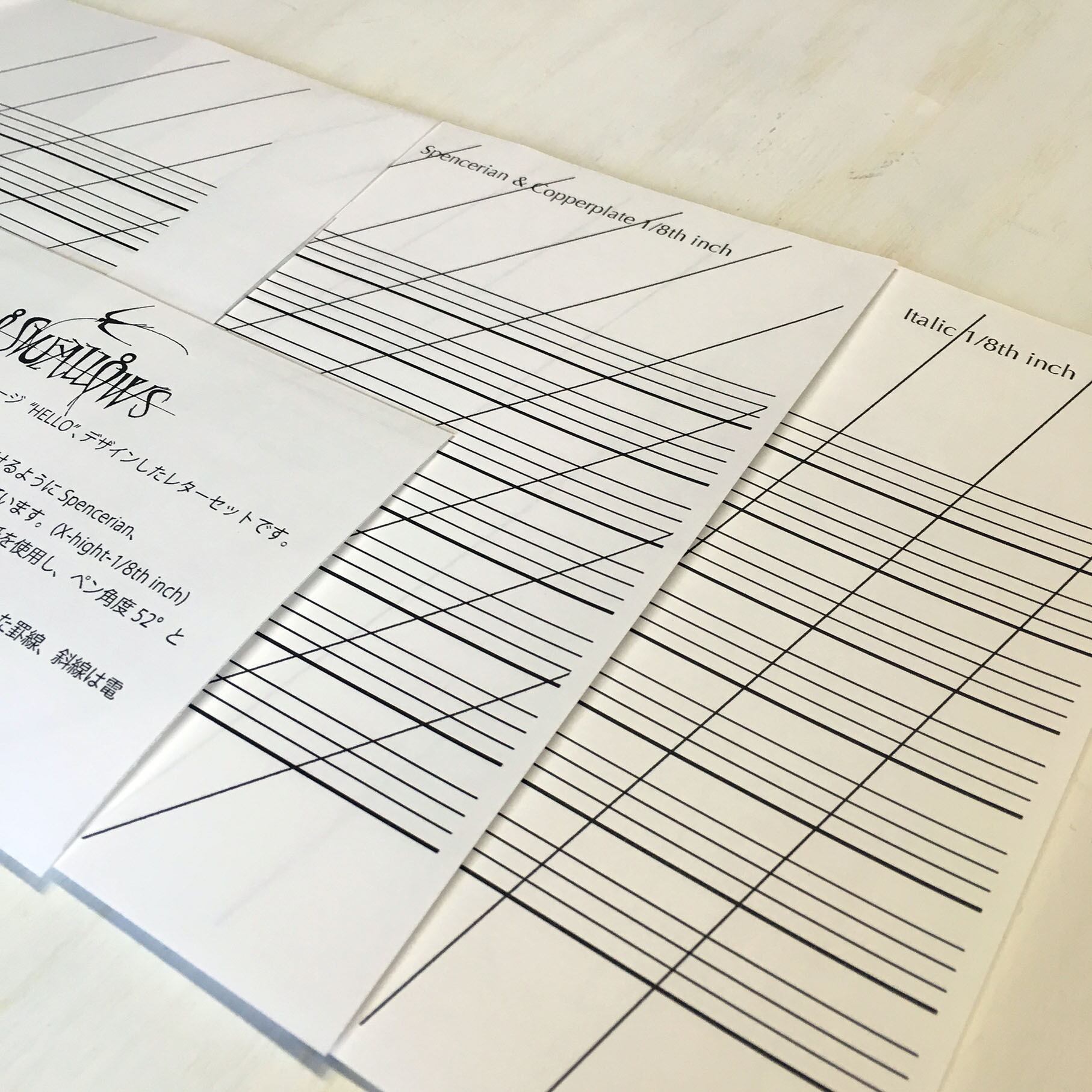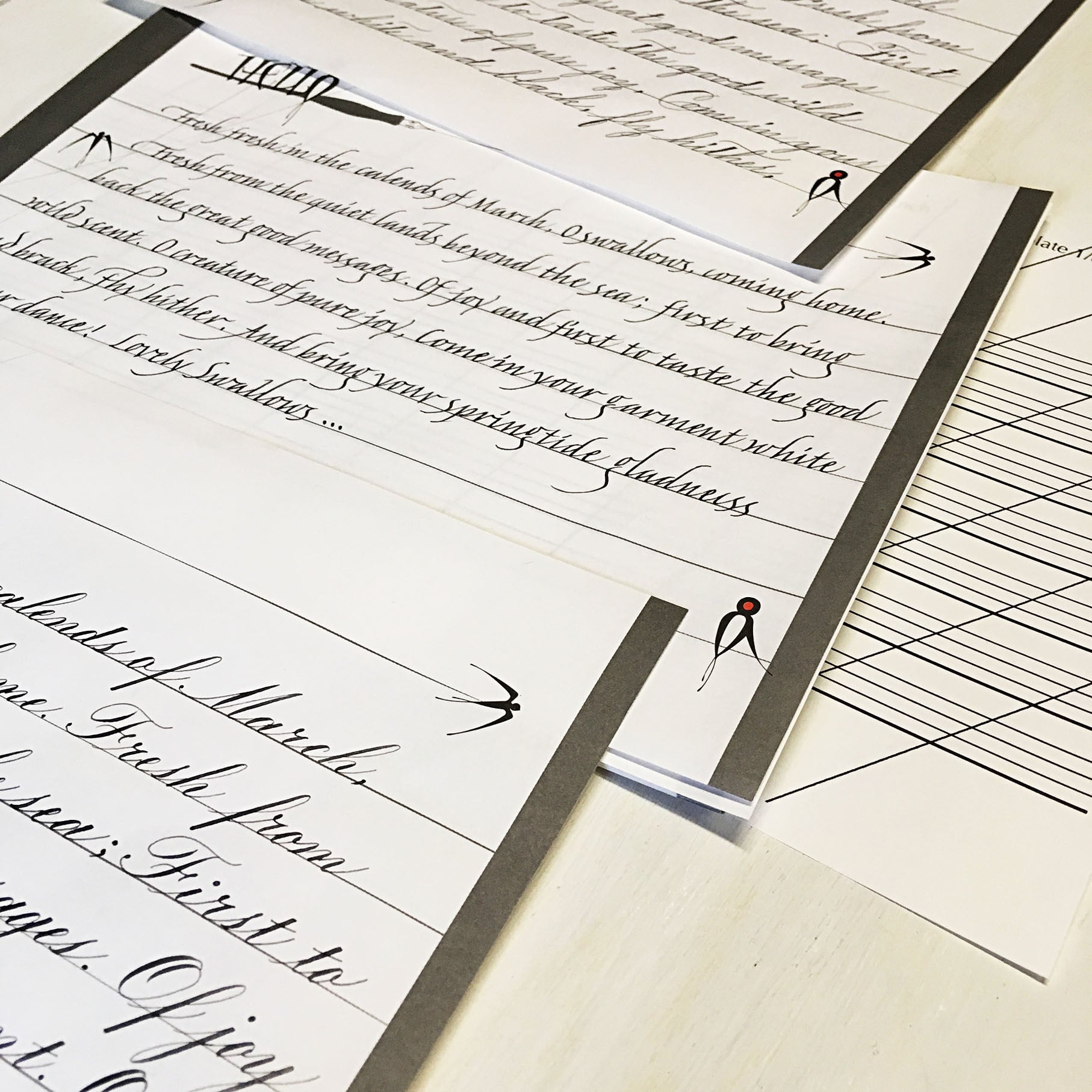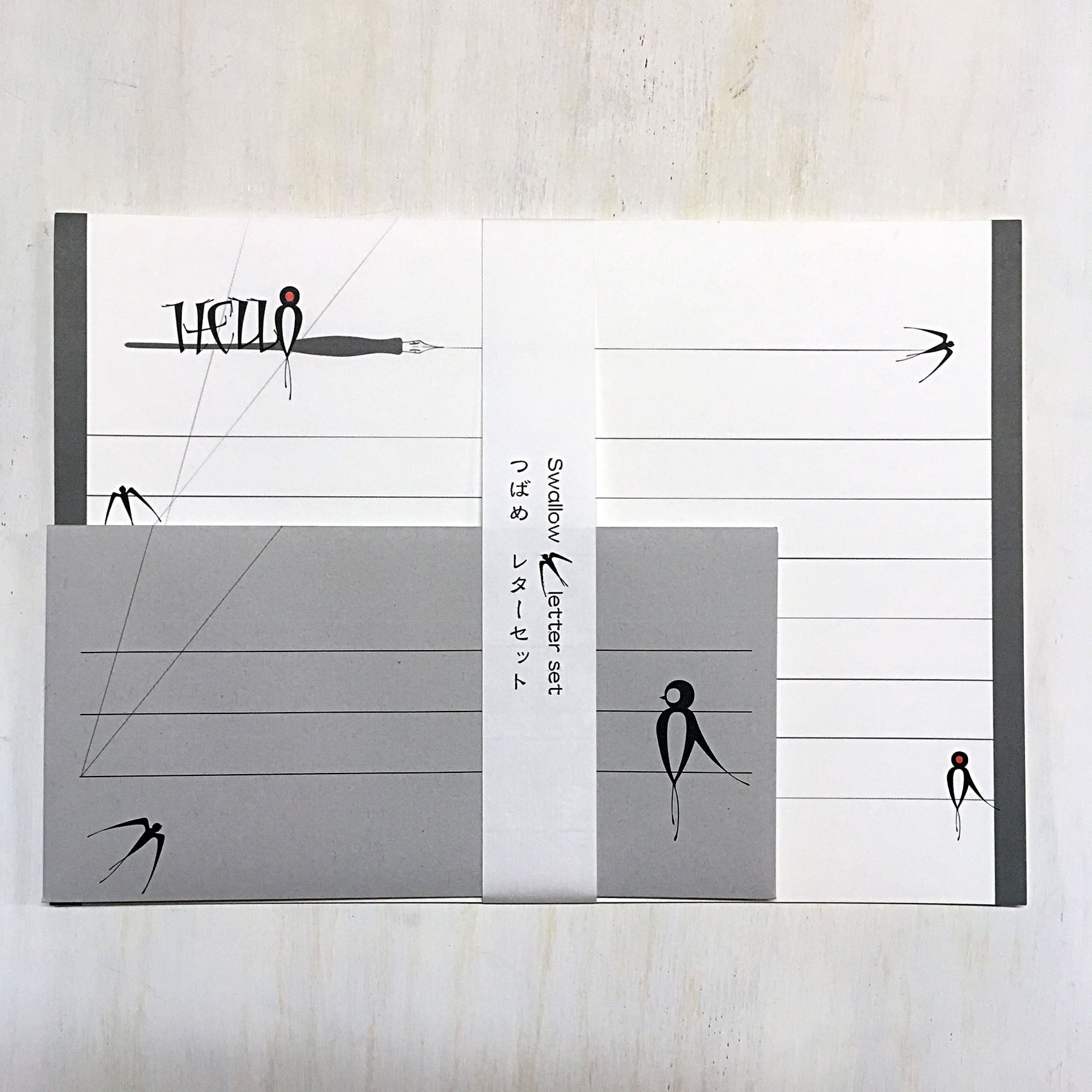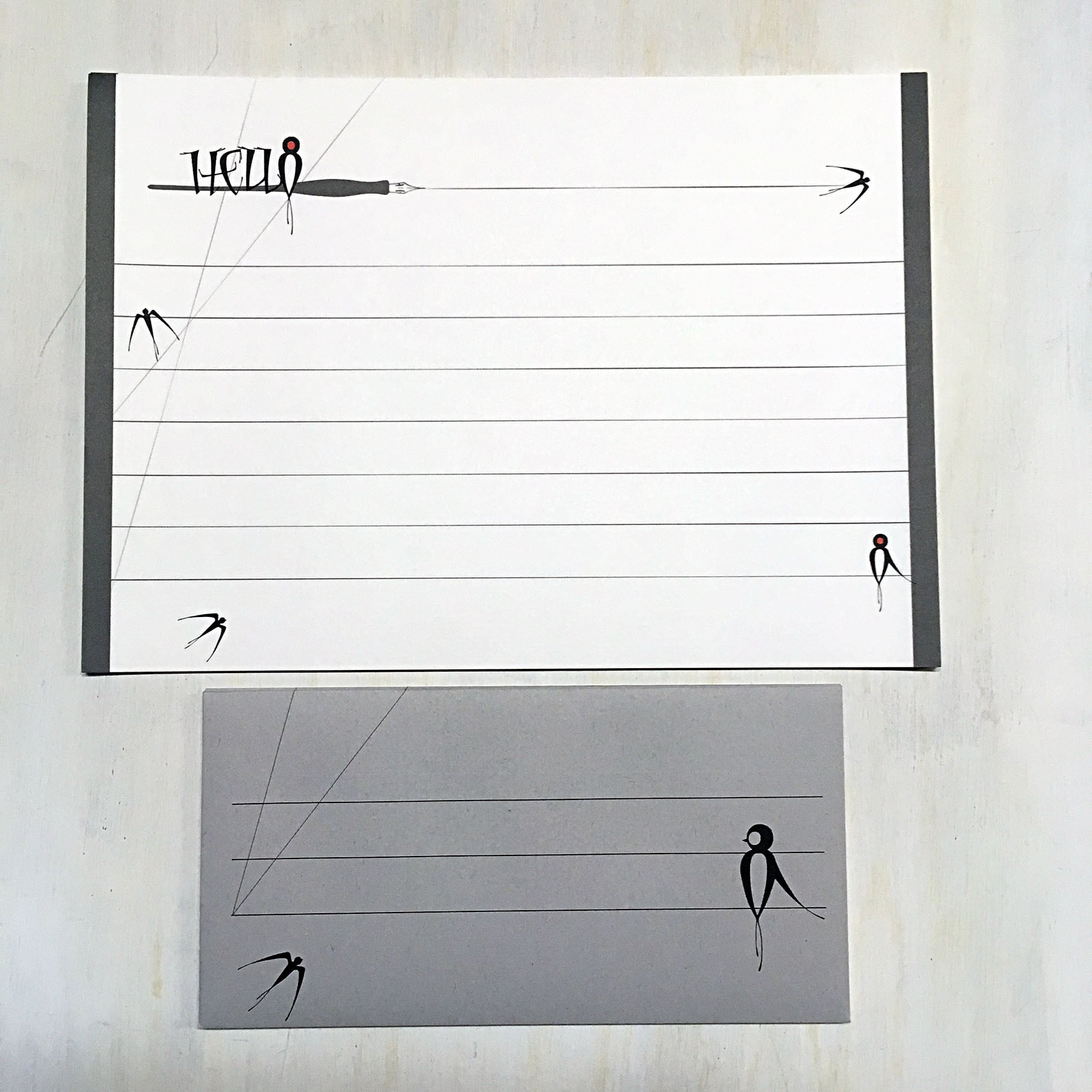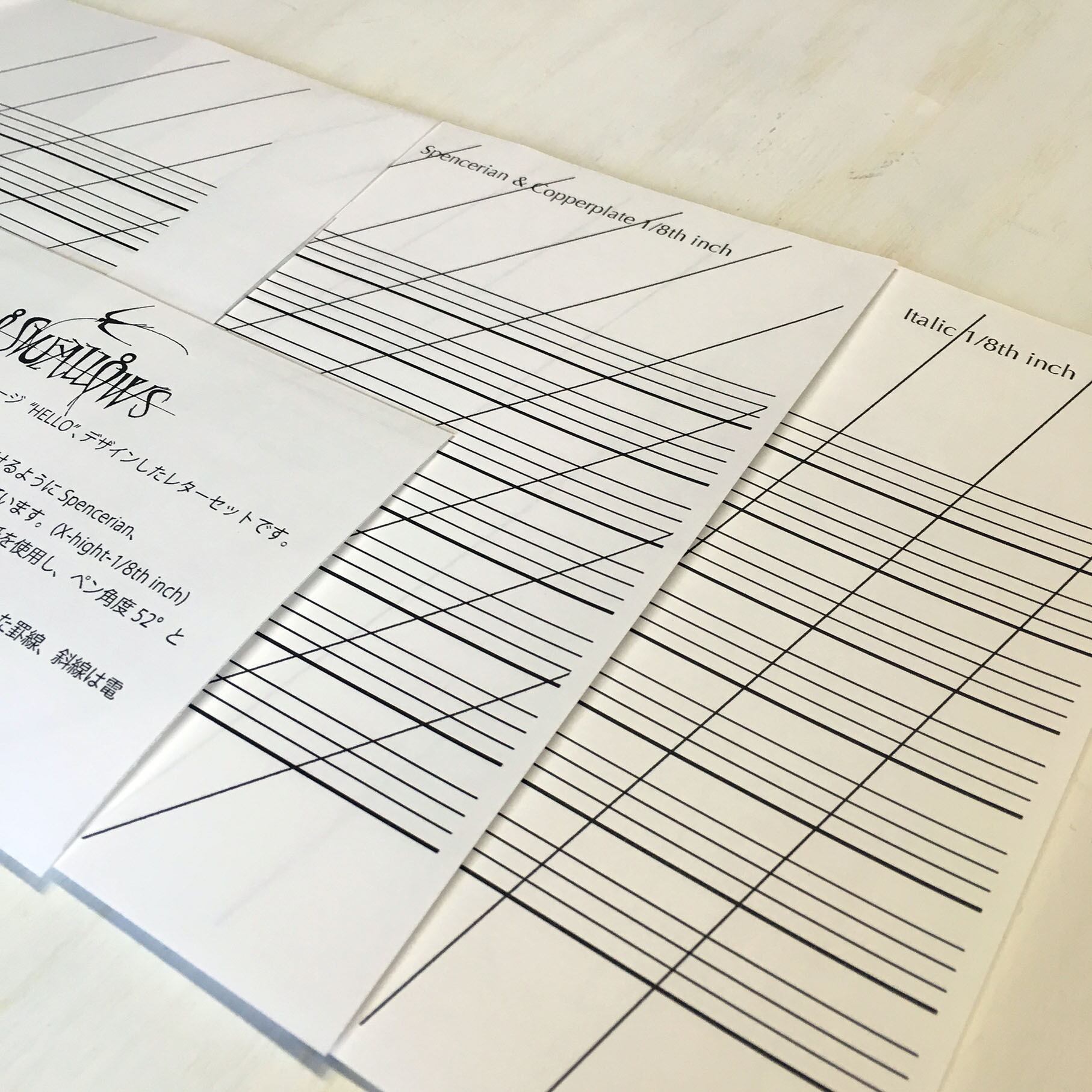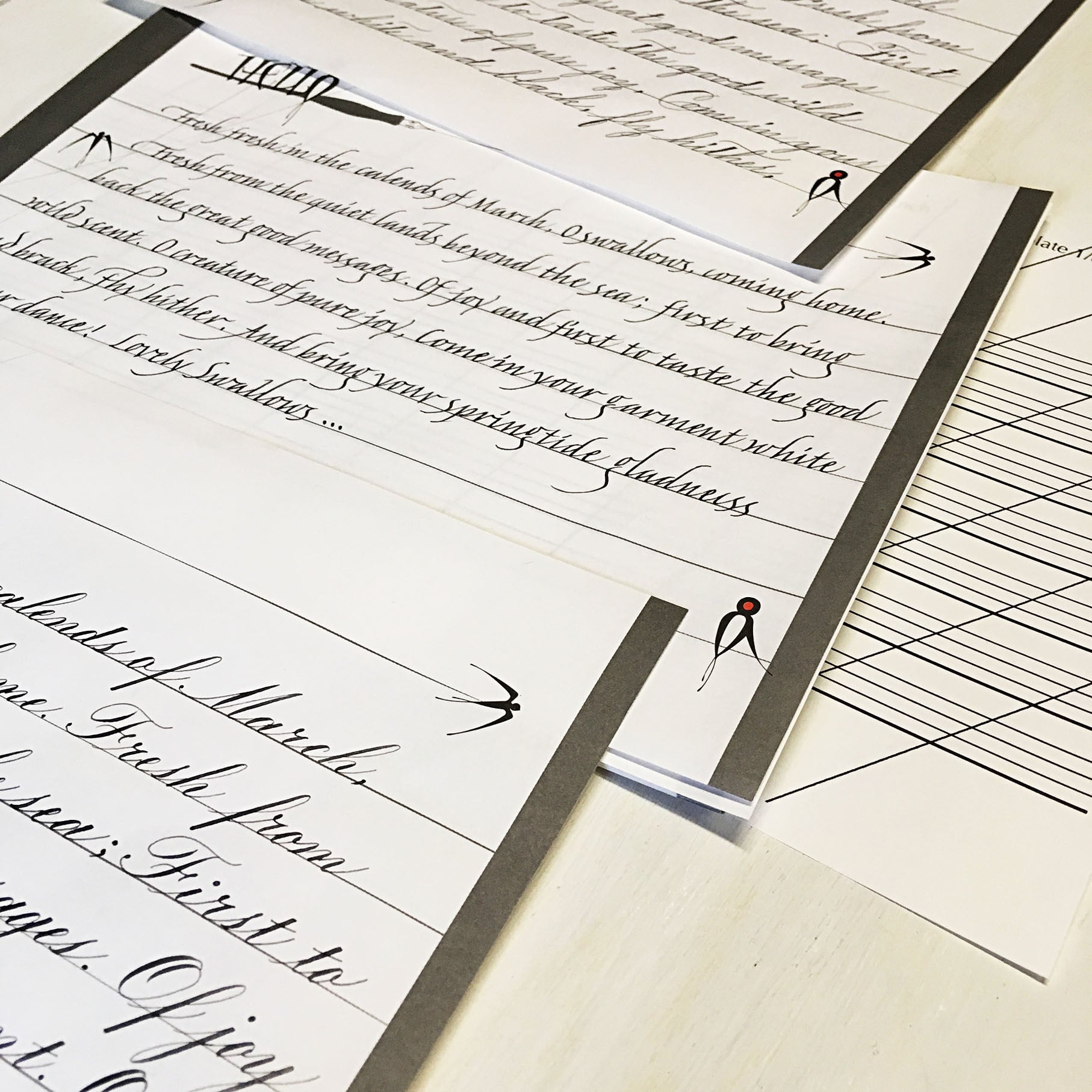 ■商品説明 (Description)

カリグラフィー雑貨
"つばめ"の愛らしい姿を文字でイメージ、デザインしたレターセット"HELLO"です。

・日本語はもちろん、Calligraphyで手紙を書けるようにSpencerian、Copperplate、Italicの罫線を下敷きとして付けています。(X-hight -1/8th inch)
・手書き文字が映えるように上質な純白のサンレイド紙を使用し、ペン角度52°と15°の斜線をデザインとして薄く入れています。
・電線に止まっている"つばめ"がとても印象的で、ペンで書いた罫線、斜線は電線をイメージしています。

I'm a strong swallows lover because lots of swallows come to my house every year and playing and building their nests around my house.
I can enjoy such lovely swallows from spring to summer.

This is a letterset (writing paper and envelopes) designed by my built-up letters shaped swallows. (HELLO)
Also, these swallows are kind of letters for me.

・Not only Japanese but also 3 styles of calligraphic hands (Spencerian, Copperplate and Italic) can be written by you.
Including 2 guide sheets for the 3 styles of hands. (X-hight -1/8th inch)

・This writing paper is high quality and pure(snow) white and added 2 slanting line s(52° and 15°) which is the pen angles you need so that your calligraphy will look nicer and good for writing.

・The ruled lines and slanting lines are imaged as electric wires (cables) here in Japan. Swallows are perched on the electric wires in Japan. (everywhere?)


*便箋15枚・封筒5枚・下敷き2枚(52°/ 15°) /1セット
*15 writing paper, 5 envelopes and 2 guide sheets (52°/ 15°) in 1 set

■商品サイズ(Size)

・便箋(writing paper):H(高さ) 18.2cm、W(幅) 25.7cm
・封筒(envelope):H(高さ) 9.7cm、W(幅) 19.1cm

■商品重量(Weight)

  105 g / 1セット(Quantity) 

■商品材質(Material)

 紙(Paper)
*Tax included.
*Additional shipping charges may apply, See detail..

About shipping fees
The shipping fee for this item varies by the shipping method. Customers can choose the shipping method at time of purchase.
Letter-Pack

Your delivery status can be checked online.

Shipping Fees are the same all over country inside Japan ¥510

EMS

Express Mail Service (overseas) ; Ask me

Shipping Fees are the same all over country inside Japan ¥1,500
*Japan domestic shipping fees for purchases over ¥8,000 will be free.