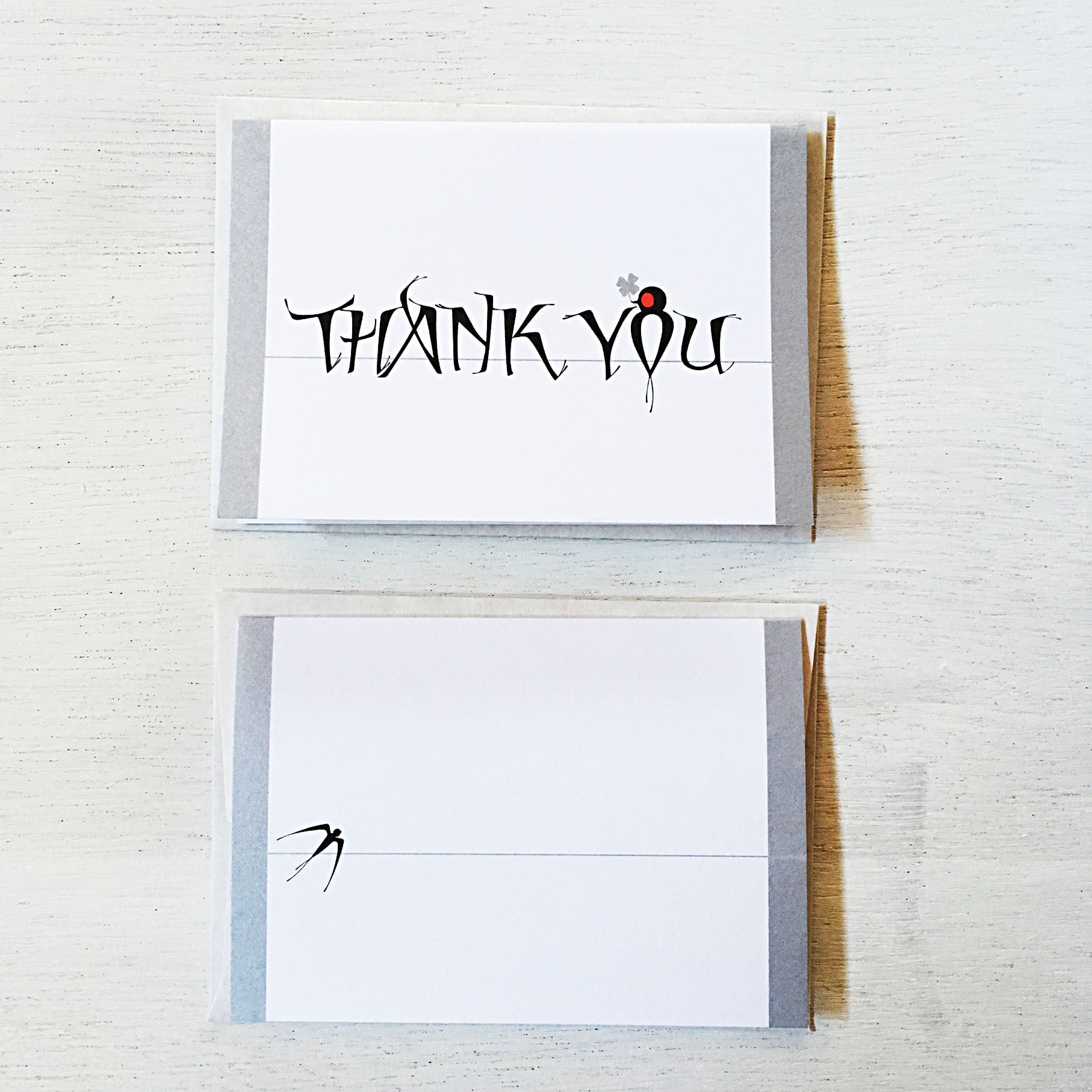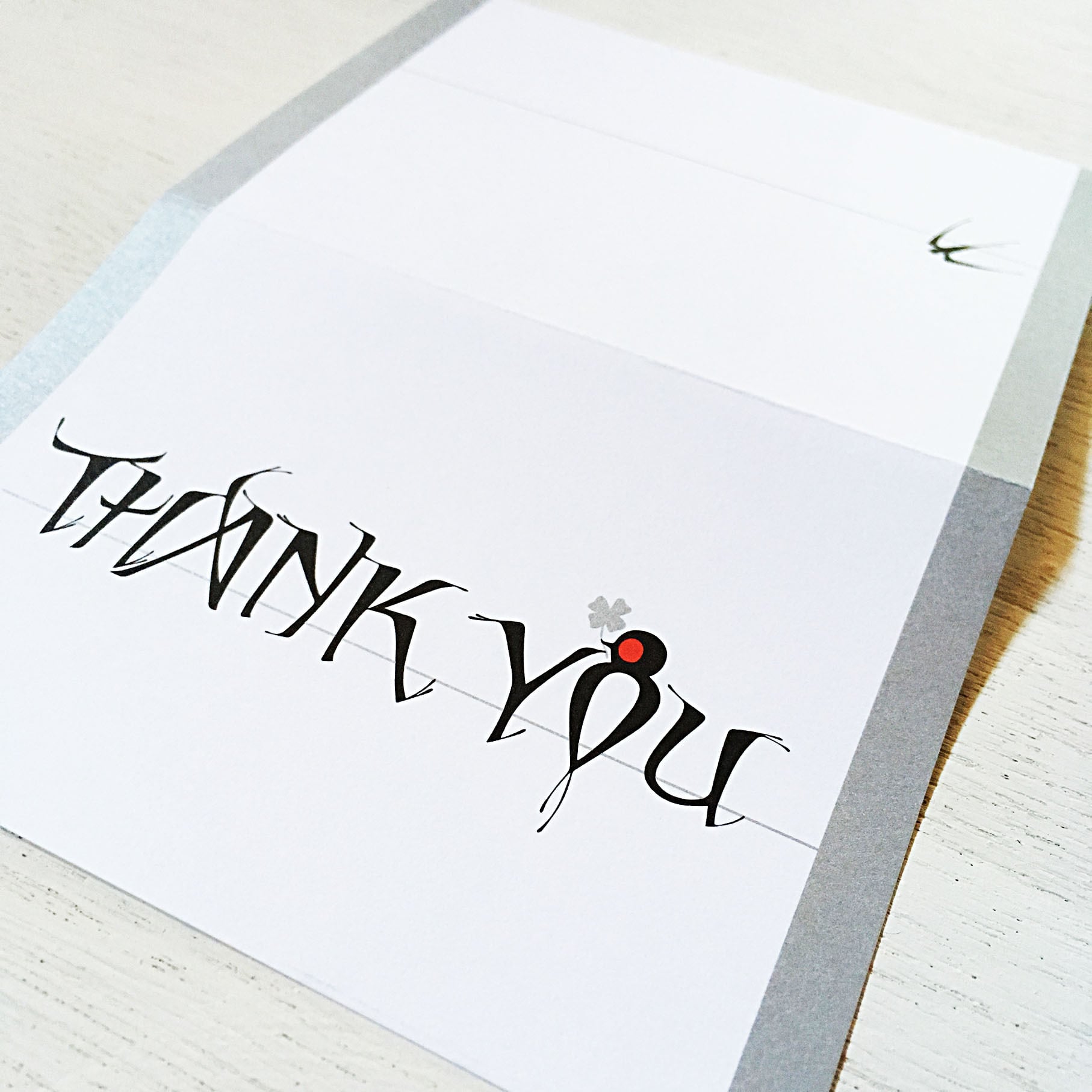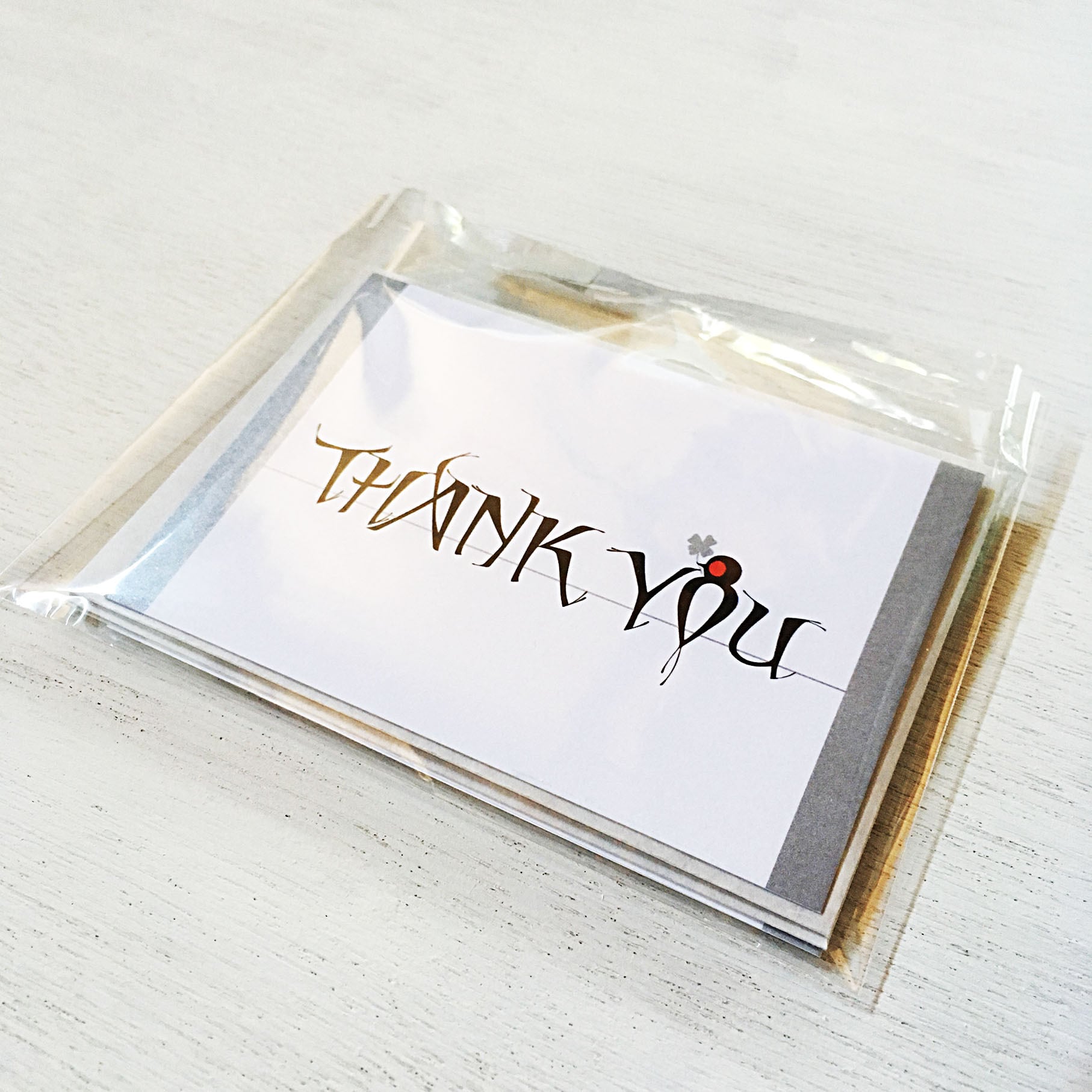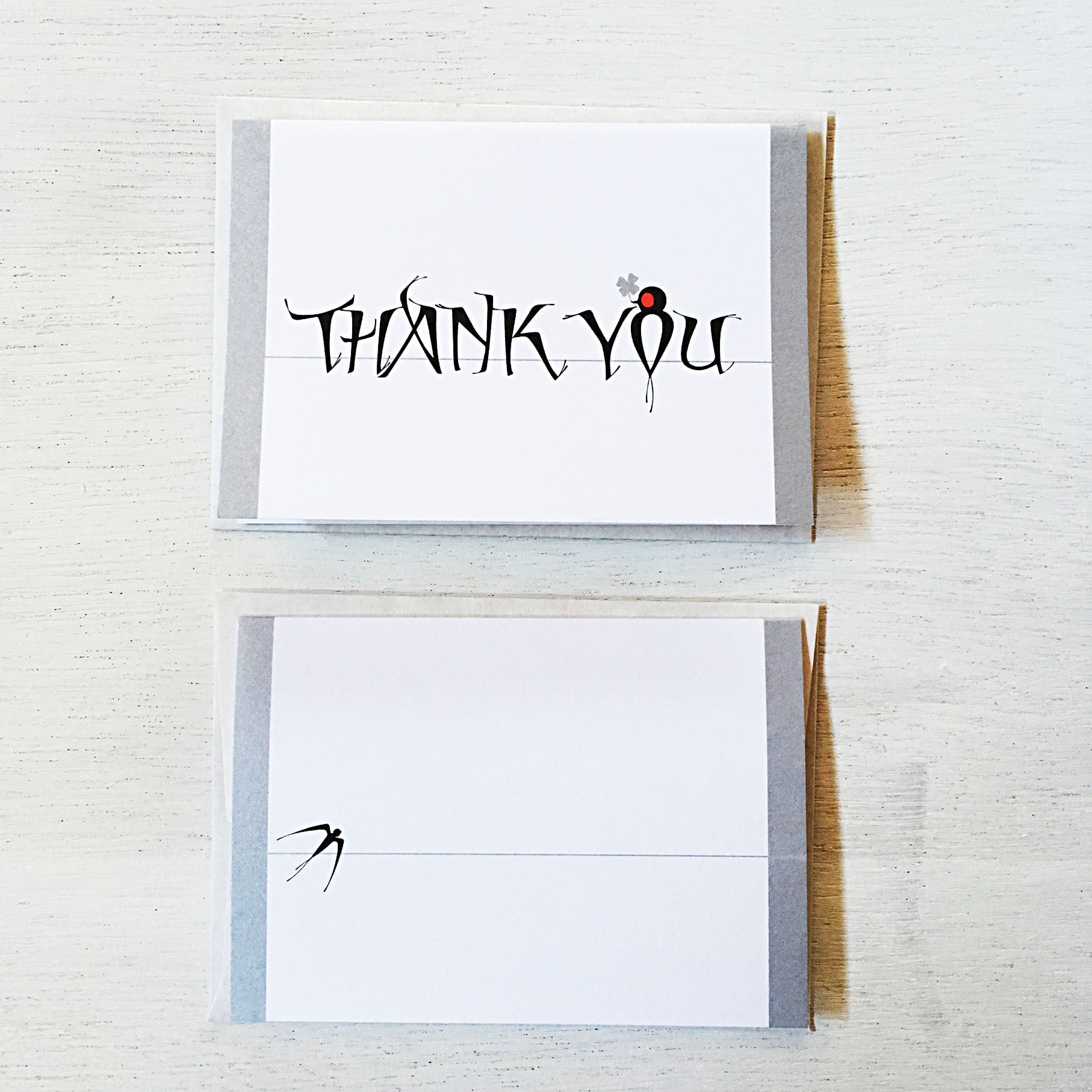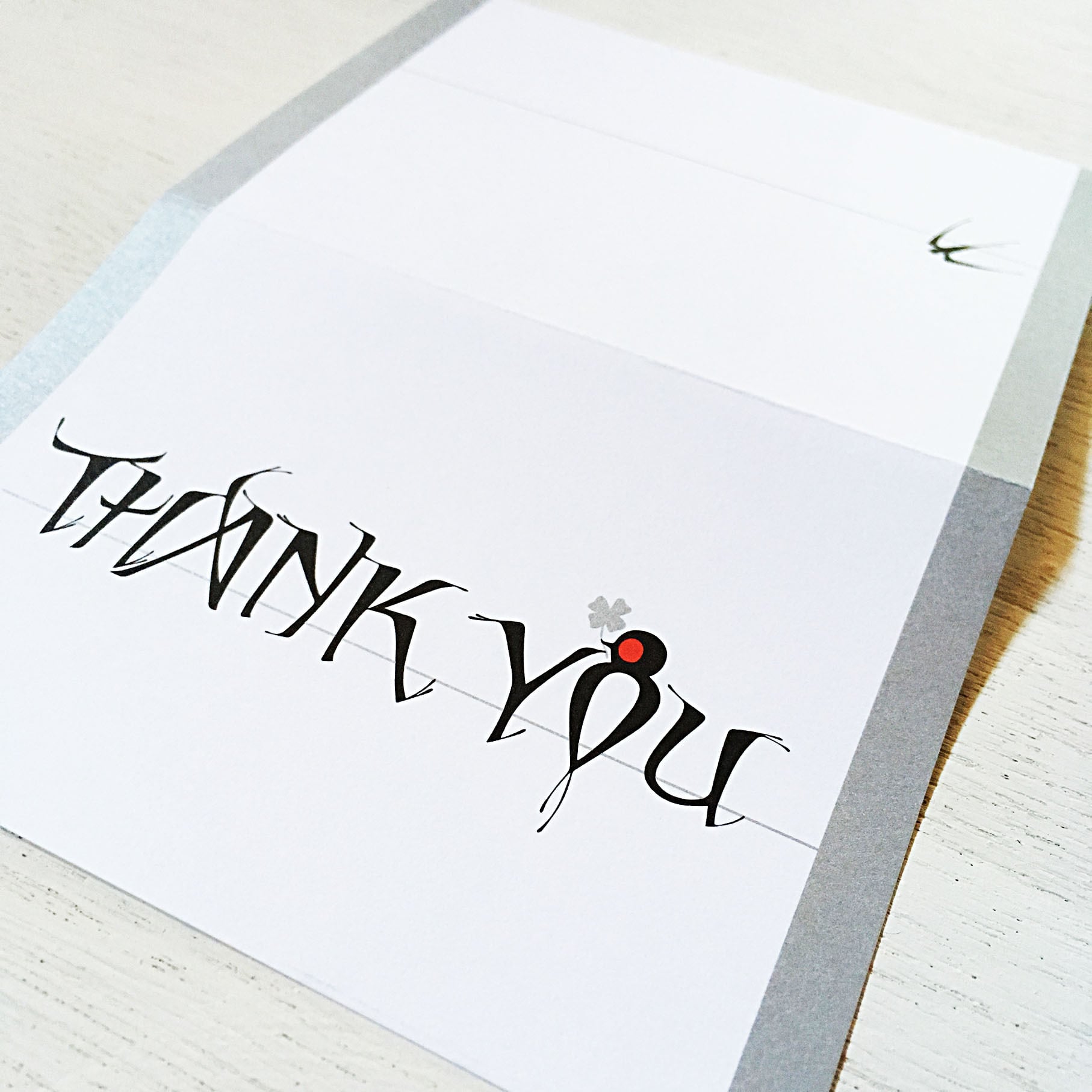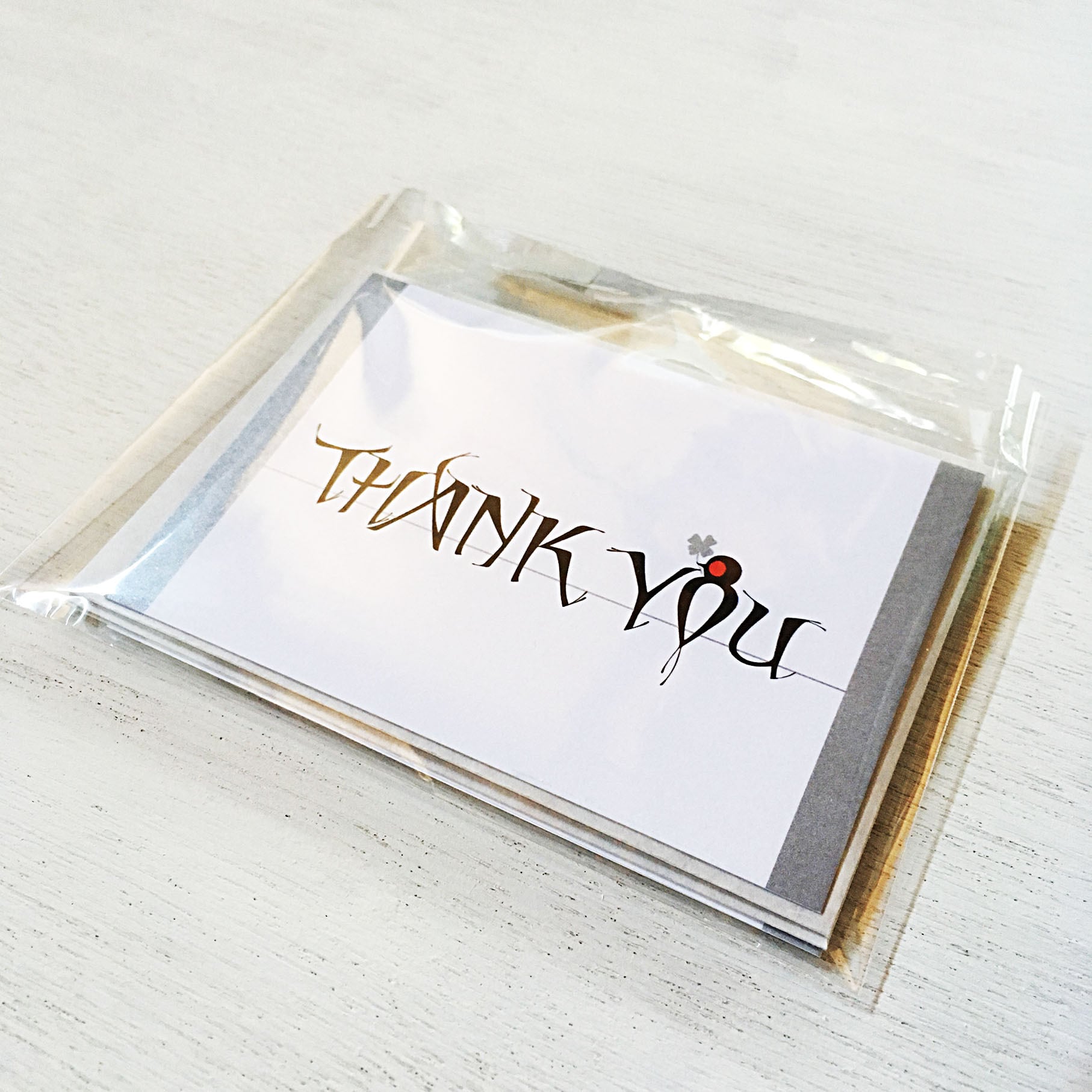 ■商品説明 (Description)

カリグラフィー雑貨;
"つばめ"の愛らしい姿を文字でイメージ&デザインした小さな "Thank you カード" です。

"ありがとう"という場面でメッセージを書いてお使いください。
カードの裏側にお名前を書いて、結婚式やパーティーなどの席次表にも使っていただけます。

・電線に止まっている"つばめ"がとても印象的で、シルバー色の横線は電線をイメージしています。

・白地に黒、赤、シルバー色を使った上品なカードです。

・内側は自由にメッセージを書けるよう、空白にしています。

・手書き文字が映えるように上質で純白のアラベール紙を使用しています。

I'm a strong swallows lover because lots of swallows come to my house every year and playing and building their nests around my house.
I can enjoy such lovely swallows from spring to summer.

This is a small "Thank you card" (message card) designed by my built-up letters shaped swallows. (THANK YOU)

・The silver lines are imaged as electric wires (cables) here in Japan. Swallows are perched on the electric wires in Japan. (everywhere?)

・The clover and lines are silver color which is very graceful.

・The inside of the card is an intentionally blank so that you can write messages freely.

・This paper is high quality and pure(snow) white so that your calligraphy(messages )will look nicer and good for writing.



*カード3枚・封筒3枚
*3 cards, 3 envelopes in 1 set

■商品サイズ(Size)

・カード(card):H(高さ) 7.4cm、W(幅) 10.5cm
・封筒(envelope):H(高さ) 8cm、W(幅) 11.3cm

■商品重量(Weight)

  15 g / 1セット(Quantity) 

■商品材質(Material)

 紙(Paper)
*Tax included.
*Additional shipping charges may apply, See detail..

About shipping fees
The shipping fee for this item varies by the shipping method. Customers can choose the shipping method at time of purchase.
Letter-Pack

Your delivery status can be checked online.

Shipping Fees are the same all over country inside Japan ¥510

EMS

Express Mail Service (overseas) ; Ask me

Shipping Fees are the same all over country inside Japan ¥1,500
*Japan domestic shipping fees for purchases over ¥8,000 will be free.